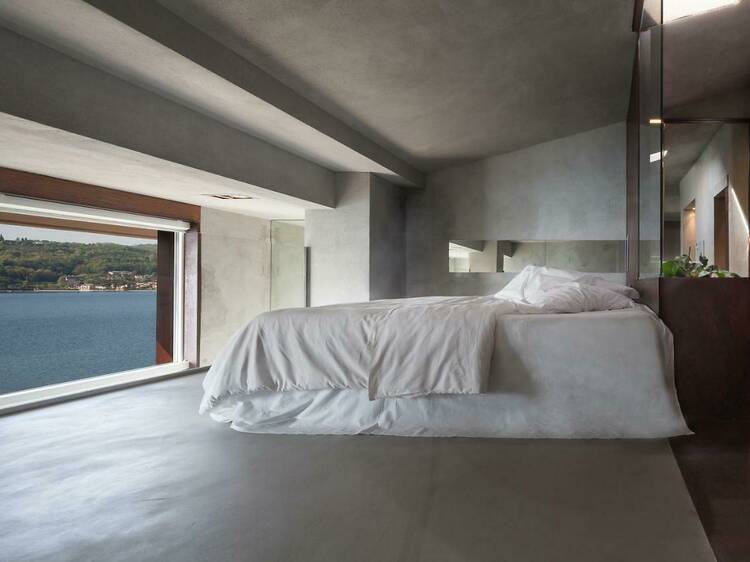 Photograph: Booking.com
La Locanda del Benaco
Behind La Locanda del Benaco's ornate Art Deco facade is a boutique hotel with a surprising minimalist interior. Everything here is sharp and stylish, following a grey and black palette with occasional pops of colour, and rooms are industrial-chic, made with materials like cement, oxidised iron and glass. Family-run with 13 rooms, the place has a cosy, friendly vibe, despite all the sharp lines. And its location is no eyesore either, situated along the seaside promenade of Salò on the western shore. The hotel restaurant offers a refined seasonal menu of lake fish and local vegetables. Double rooms start at €120 (£102).
Locanda San Vigilio
For a hotel steeped in history, try Locanda San Vigilio, sitting right on the waterfront at Punta San Vigilio. The hotel is housed in a sixteenth-century stone building shaded by cypress, agave and oleander trees. Rooms feature carved wooden furniture and sixteenth-century prints, and some come furnished with opulent four poster beds. Wander the grounds and you'll find a swimming pool fringed by olive trees and a historic chapel. If you're feeling very flush, you can arrive in style at the private dock on the lake or the hotel's helipad. Double rooms start at €360 (£307).
Prati Palai
Sometimes, the lakefront can get a little busy. For an oasis of peace, take the dirt track up from the town of Bardolino to Prati Palai, a hotel located in a sixteenth-century farmhouse surrounded by olive groves. It strikes a pleasing balance between rustic and elegant with pastel-hued beamed ceilings, reclaimed wooden floors and statement furniture made by local artisans. The place is surrounded by 45 acres of meadows and woodland, where guests can stroll, have a picnic or play tennis at nearby courts. Double rooms start at €240 (£205).