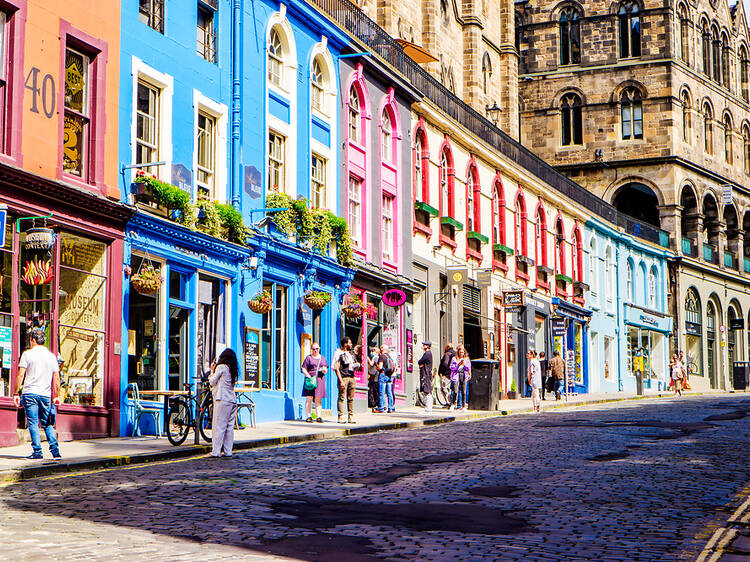 Photograph: David Ridley / Shutterstock.com
What makes us great: We all know what Edinburgh is best known for. But year round, the Scottish capital is hard to beat, with landmarks, architecture and scenic hotspots that make it one of the most beautiful cities to explore on foot, as well as a food and drink scene that has an ever-evolving selection of forward-thinking bars and eateries, from new Leith restaurant and wine bar Eleanore to Bonnie & Wild's Scottish Marketplace at the St James Quarter. This is a city full of warmth that encourages self-expression across communities via its art, culture and nightlife. It's progressive and forever welcoming of all groups (no wonder 88 percent of locals told us it was easy to 'express who you are' in the city). Plus, there's the small matter of those festivals returning this August...
Visit now because: There are some terrific new openings worth checking out, including Glasgow Asian-inspired favourite Ka Pao, Stockbridge chocolate café Ocelot and Leith neighbourhood gem Cocorico. The city is also about to get Scotland's first 'vertical distillery' in the form of the Port of Leith Distillery on the waterfront.
The big numbers: Edinburgh ranked highly in the Index across the board, coming top for both the number of residents who thought the city was beautiful (95 percent) and those who deemed it walkable (93 percent). And who would we be to argue with that very, very sweet combo? —Arusa Qureshi, Time Out Edinburgh
Explore the city:
The Edinburgh Fringe is back – but what do the locals think?
📍 Discover the best things to do in Edinburgh